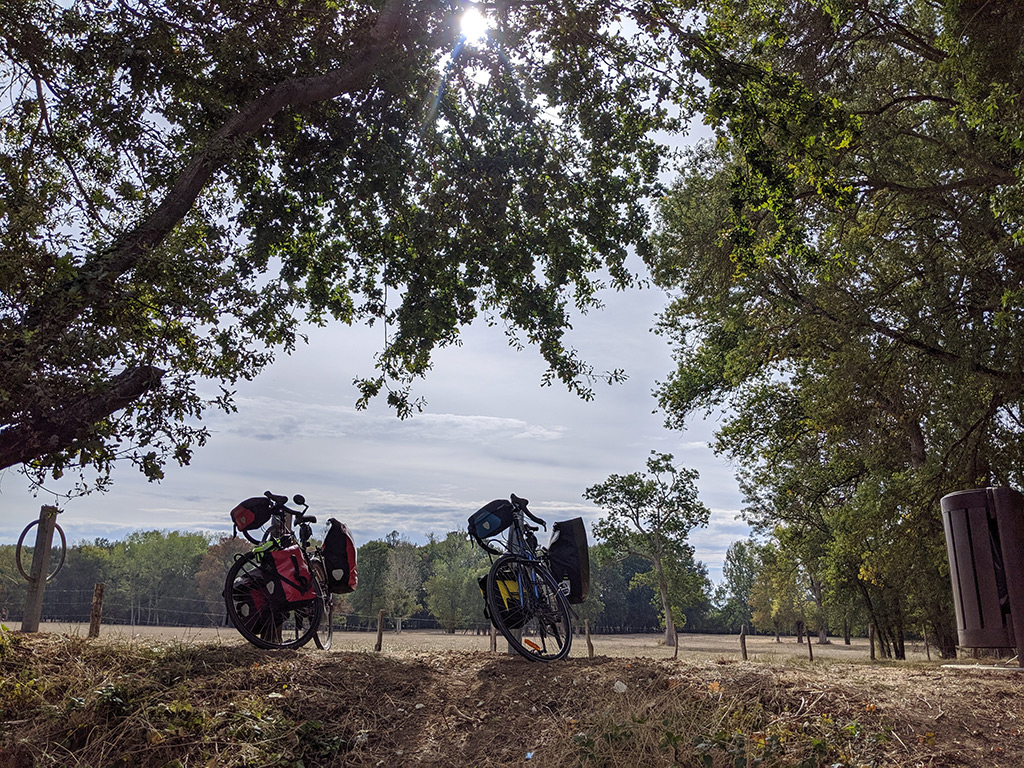 I've spent a lot of time over the last few years cycle touring. Most of the time I'm with my husband exploring, but I also did my epic solo trip down the West Coast of America in 2018. It's a different kind of 'slow' tourism. You get to smell the countryside. 
A few people have asked for a 'list' of what our gear is, and when I was starting out, it was difficult to find exhaustive list – everyone has their own style, and I cribbed things from other people. Hopefully this will be helpful for those getting into touring. It's the best. 
The bike!
The most important part I suppose. There is loads of advice out there, steel, aluminium, mixes of both. After a lot of deliberation I went for the Tour de Fer 10, in a medium frame. I called her Betty (I'm not sure why). Everyone has their own priorities. Strength, weight, riding position etc. I tried out a few till I was happy.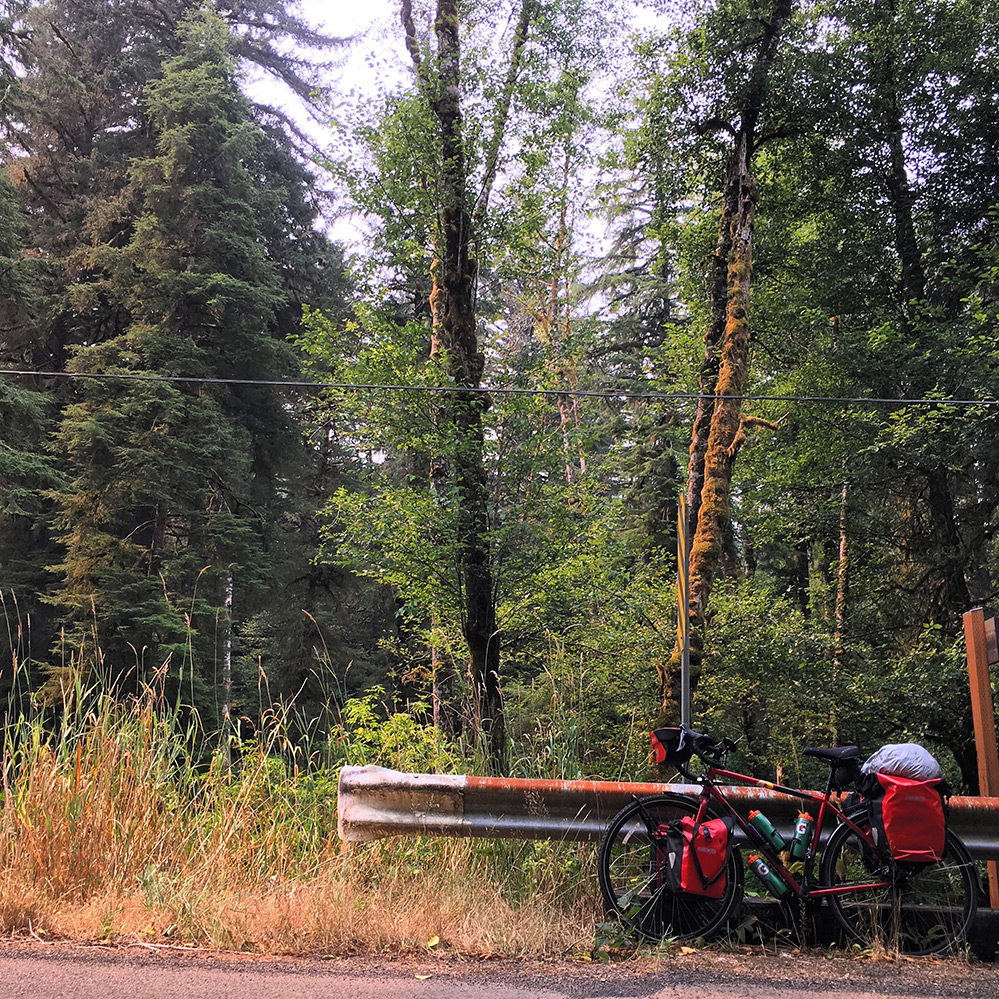 The Gear!
Essential Gear
Panniers
I've got Ortleib City Rollers at the rear, and Roller Classic bags on the front rack, and I have a small Ortlieb Front bag for energy bars and maps.
Tent
The MSR Tour 2 is fantastic. Lightweight, and brilliant for 1 or 2 people. It has a porch so you can cook when it's bucketing it down outside.  
Sleeping Bags
We use 3 Season ones, and pack a silk liner if we think it's going to get mega cold.
Pillows
Inflatable pillows like these ones from Decathlon are a life saver. 
Air Bed
I love my Exped synmat mattress. 
Stove and Gas
We haven't been anywhere off the beaten track where we would need anything too complex. Our little Vango stove works extremely well, and you can buy gas at any outdoor store.
Repair kit
Spare pump
CO2 pump (life saver)
Spare inner tubes
Puncture repair kit
Chain Repair kit
Allen Keys
Leatherman
First Aid kit
Bike Lock
I've got a medium weight Abus Steel-O-Flex lock, which has travelled many miles with me so far.
Camp Life
Cookware and Silverwear
Having tested a few things, I've decided Trangier is the best.  I've got $3 knife from Walmart, a tiny spatula, a mini chopping board and a set of plastic camping cutlery have done me fine.
Coffee!
Vital! We started off with the 3-in-1 sachets – but over time the overly sweet instant coffee sachets got too sickly. These days we use an Aeropress and it makes such a difference! 
Sponge and suds
I cut a kitchen sponge in half. For detergent, I clean out an old hand sanitiser bottle and fill it with dish soap. I'm now going to pack a kitchen towel to dry things off.
Chair
Another amazing purchase you don't realise is so important. In Europe where they don't really provide picnic tables, our Helinox Chairs are AMAZING.
Sleeping Mask and Ear Plugs
Surprisingly useful, especially when camping next to cement factories or railway lines. 
Toiletries and Towel
Pack light. But you're exposed to the elements a lot so sunscreen and moisturiser are in my pack, along with medications, soap, anti-chafe cream, toothpaste, shaver etc.
Clothes
This is a personal list, after lots of trial and error, and the fact that I don't mind getting a bit gross, as long as I can have a shower at the end of the day!
Cycle gear
1-2 pairs of Bib shorts
2 Cycle T-shirts
2 pairs of socks
Baselayer
Wind proof
Water proof
Leg warmers
Shoes
Cycle shoes – I clip in with SPD shoes and pedals.
Actual trainers – I've made the mistake of not packing these, and it meant I couldn't do extended walks – I missed out on a fair few 'cool' sights in America.
Flipflops/sandels for camp.
Civilian Clothes
Pair of rip off out door trousers. So you can have shorts or trousers.
2 T-shirts
1 Jumper/Hoodie
1 Down Jacket
1 Cap and 1 Wooly Hat
Thermals
2 pairs of boxers and socks
Tech + Entertainment
I've been on tours where I had to keep in contact with work and do marking. I wouldn't recommend taking an iPad, but that was the easiest way to keep up with work while not lugging round a laptop. Otherwise, the usual tech I pack include.
Phone
With a good camera so you don't need to take a spare one. Keep in contact with family, have maps, access to the world and podcasts, useful when lonely/lost.
Kindle
Books! All the books without the weight.
GPS
My Garmin sends my location when I'm riding so my family know I'm safe (it even send a text if I crash).  Add a heart rate monitor and have ALL THE STATS.
Battery Pack
Keep your tech on battery saver mode, and with a 20,000 mAH battery you can stay connected for almost a week. 
Bone Conduction Headphones
Lifesavers at the end of an 8 hour slog to camp. Music, podcasts, audiobooks, all useful when you reach a mental roadblock. I've got the Aftershock Titanium. 
Paper Maps
Useful for the broader perspective of where you are, great in the pub at the end of the day.
Torches
Head torch and a lamp for your tent are VITAL.